Nintendo's Pokemon division, in collaboration with GameStop, have confirmed that starting on March 4, owners of Pokemon Black and White 2, as well as those with Pokemon Black and White 1, will be able to get a free Mythical Pokemon in the form of Meloetta just by visiting GameStop stores in the United States of America, or EB Games outlets in Canada.
Pokemon fans are eagerly awaiting the release of Pokemon X and Pokemon Y, but many are still enjoying the latest installments in the franchise, in the form of Black and White 2 or Black and White 1.
For those active players, Nintendo and GameStop have confirmed that they're organizing a special giveaway next month, through which owners of the four different games can get a special Mythical Pokemon named Meloetta.
Check out the description of the new and quite powerful creature below, via an official statement.
"Meloetta is the rare and powerful Melody Pokémon that keeps opponents on their toes with its one-of-a-kind ability to alter Formes in the middle of battle. Players who attend the GameStop distribution event will receive Meloetta at Level 50 in its Aria Forme, in which it fights as a Normal- and Psychic-type Pokémon. If a battle calls for a change of tone, Meloetta can switch to its Pirouette Forme and become a Normal- and Fighting-type character—the first-ever Pokémon with such a type combination."
Meloetta can change forms by using a special move called a Relic Song and players who get it will also be able to perform other moves like Close Combat, Teeter Dance, Psychic, or Round.
The special giveaway will be organized between March 4 and 24 in the U.S. and between March 9 and 24 in Canada.
Check out the requirements that need to be met by owners of Pokemon Black and White 1 or Black and White 2 below.
- A Nintendo 3DS or Nintendo DS system
- A Pokémon Black 2, Pokémon White 2, Pokémon Black, or Pokémon White game
- The Pokédex within the game
- No more than 11 Wonder Cards in their possession.
Check out a video of Meloetta in action below.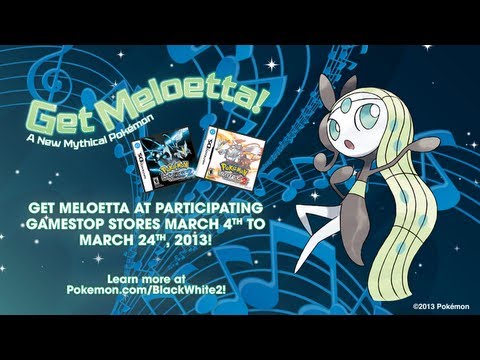 Play Video