Angry Birds Star Wars was just launched for iPhone, iPod touch, and iPad. Available for immediate download in the iTunes App Store, Angry Birds Star Wars is the latest installment in the popular avian puzzle series from Finnish developer Rovio Entertainment.
"Rebel birds, striking from a hidden base, have won their first victory against the evil Imperial Pigs," Rovio says on the iTunes App Store.
"During the battle, Rebel spies managed to steal secret plans to the Empire's ultimate weapon, the PIG STAR, and are racing to deliver the plans to the Rebel Birds. Now they need your help!"
"Use the Force, wield your lightsaber, and blast away Pigtroopers on an intergalactic journey from the deserts of Tatooine to the depths of the Pig Star."
As players embark on this new adventure with the Angry Birds in the Star Wars universe, there will be some new things to be learned.
For example, Rovio touts some new gameplay mechanics with lightsabers, Blasters and Jedi powers that promise to "wreak havoc on the Imperial Pigs."
Players will be able to upgrade their birds – "Keep playing and level up your birds to improve their skills!"
And there will be some bonus levels to unlock featuring R2-D2 and C-3PO. Rovio promises that "This is only the beginning of the epic saga!"
Watch the Angry Birds Star Wars Cinematic Trailer below, and use the download (iTunes) links while you're at it.
Angry Birds Star Wars for iPhone and iPod touch goes for $0.99 / €0.89 and the HD version (for iPad) sells for $2.99 / €2.69.
The game is compatible with iPhone 3GS, iPhone 4, iPhone 4S, iPhone 5, iPod touch (3rd generation), iPod touch (4th generation), iPod touch (5th generation) and iPad.
It requires iOS 4.3 or later and has been fully optimized for the iPhone 5.
Download Angry Birds Star Wars for iPhone and iPod touch
Download Angry Birds Star Wars HD for iPad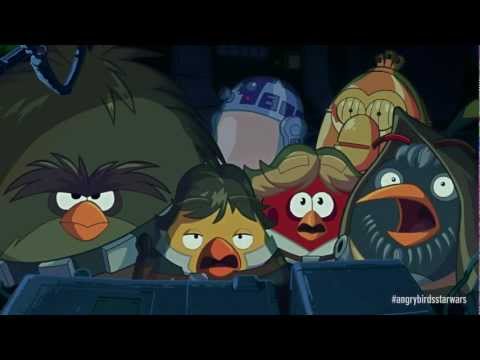 Play Video