Kyle Dyer, an anchorwoman for a Denver TV station for 15 years, has been hospitalized after an accident that took place live, on air, during her morning show. An adult Dogo Argentino (Argentine Mastiff) bit her in the face, as she leaned in for a kiss.
Video of the incident is below, but *please note that it contains graphic content and could offend.
The TV network didn't air images of Dyer after she was bit, and neither does the clip below offer an indication as to the extent of her injuries.
However, she can be heard speaking at the end of the clip. Inside sources also say that she was well enough to talk when she was rushed to the hospital.
The Dogo Argentino Max had made headlines around the country a day before, after being rescued from the frozen waters of a lake, where he had chased a coyote, by a brave firefighter.
The dog, the firefighter and the dog's master were all invited on the show to speak of the amazing rescue.
Max doesn't show any signs of unrest as Dyer pats him as she wraps up the interview. Before signing off, she leans in to kiss him, which is when he lashes out and bits her in the face.
The second video below is a report on the incident, with KUSA News Director Patti Dennis offering details on Kyle's condition.
She was injured pretty badly in the attack, but she's already gone under the knife and is expected to make a full recovery.
"Kyle is doing good. She just got out of surgery about 2 o'clock this afternoon," Dennis says.
"She had reconstructive surgery on her lip – and she's doing well, and will make a recovery, and we're all thinking about her and her family," she adds.
The anchorwoman is expected to return to work in a few weeks, after her scars would have healed.
"Kyle will go through a recovery and be back in a period of weeks - probably several, but she will be back," Dennis explains.
Max the dog is now in quarantine for 10 days until authorities rule out any illness or signs of rabies. His owner has been cited for a dog bite violation, and will be fined for not having Max on the leash – or properly vaccinated.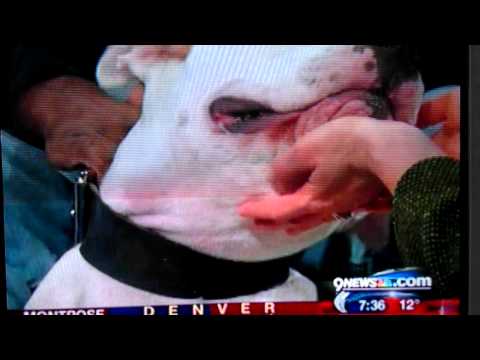 Play Video