Home-theater personal computers are one of two types of desktop PCs for which aesthetics matter particularly much, which is why Jeffery Stephenson's project is getting attention.
Published through FanlessTech, it shows an HTPC that doesn't stand out because of its internal parts, despite them being more than decent.
Instead, the fanless cooling system and the mahogany shell are the ones most likely to score points with prospective customers.
Of course, since this is still just a project, it is quite possible that there will never be an item for customers to order.
On the other hand, there is no real reason why Jeffrey Stephenson's project shouldn't succeed now that it has become known.
For those that want to know the specifications, even though they aren't essential, the performance rests on the back of an Intel Core i3-3225 CPU.
Backing said central processing unit are 8 GB of RAM (random access memory).
A Gigabyte Z77N-WiFi motherboard holds the chip and RAM, while an Intel Cherryville SSD provides an undisclosed storage capacity. A 150W Pico-PSU supplies all the parts with energy.
That's as much information as the official posting of the project and the one on FanlessTech website would disclose.
Understandable, since computers like this usually have customizable specifications, at least regarding memory.
Overall, the fanless HTPC from Jeffrey Stephenson looks much like a heater. The only downside is that, since it still needs cables and a power socket, it can't be picked up and moved around all the time. A shame, one might say, seeing as how it is just twice as tall as a can of coke.
The original project posting can be found here. There are two versions too: one with a rounded fin array of sorts at the top, and one with a simple flat panel there. Both have the mainboard panel on the lower back side.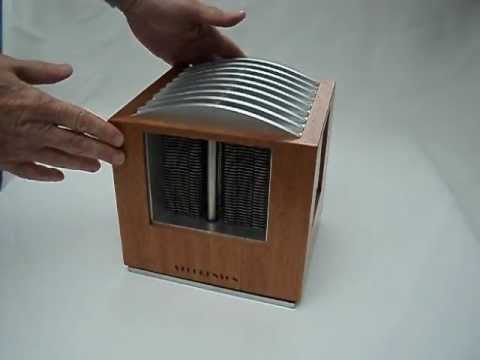 Play Video