The folks over at MADFINGER Games, creators of so many hit game titles for Android devices, such as Shadowgun, and Samurai II: Vengeance, have just delivered a major update for another one of their games, Dead Trigger.
Dead Trigger is a first-person zombie shooter that already has between 100,000 and 500,000 downloads in the Google Play store, formerly known as Android Market. It also achieved a 4.0 average rating out of five.
Aside from the new features introduced, such as weapons, zombies, environments, gadgets and more, the new version of Dead Trigger is now available for free.
The following new changes have been added with the latest version of Dead Trigger for Android:
- New weapons: Chain Saw, Lewis Machine Gun, Marine Engine with blades and American West Rifle;
- New gadget: Head-Flator X100 to inflate the heads of zombies to XXXL size;
- New zombies: mutated mobsters or armored SWAT members;
- New environments: underground car park or secret research base;
- Survival arena, that is tailor-made for massacre of hordes of zombies;
- Daily rewards;
- Casino: try your luck with a slot machine;
- Save game data with cloud backup;
- Support for Adreno 205 graphics processing unit, including Sony Xperia Play.
Dead Trigger 1.1.0 is now available as a free download via Google Play store and it should be fully compatible with all devices running Android 2.1 and later. Check it out here.
It should be noted that Android 4.1 Jelly Bean users are strongly advised not to update to version 1.0.1. According to MADFINGER Games, the latest iteration of Dead Trigger does not run on Jelly Bean, but they are working on fix along with Google, which will correct this issue.
Last but not least, it is worth mentioning that the game supports extended effects on Nvidia Tegra 3 devices, so expect stunning visuals for this category of smartphones and tablets.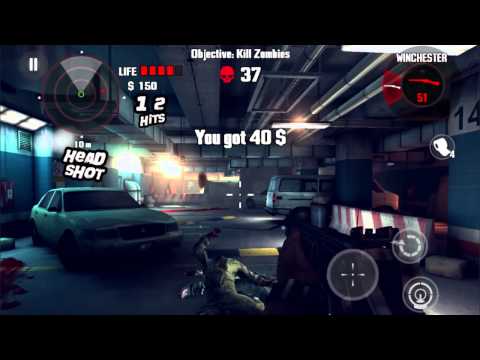 Play Video