Developer DICE is getting ready to launch the End Game expansion for its first-person shooter Battlefield 3 and the team is ready to talk about the way the new content is re-designed to offer multiple opportunities for dirt bike use.
Malin von Matern, a quality assurance analyst at DICE, writes on an official blog that, "I wanted to make sure that they didn't just feel randomly placed – but rather something that lived naturally within the maps and their gameplay. I wanted every single one of the jumps to feel authentic, fun and just a little bit crazy."
He adds, "On Operation Riverside for example, the jumps are very clear and often made out of metal ramps supported by dirt piles, compared to Kiasar Railroad where the jumps are less obvious, molded with the landscape and often made out of wooden planks laid out on dirt mounds. This encourages players to explore the levels to see if they can find all the jump spots."
End Game is the final content expansion for Battlefield 3 and DICE wants to make the experience as complete as possible.
The game owes its long life to its multiplayer component and the development team wants to make sure that players continue to play even if no more maps or new modes are added.
Dirt bikes offer a new way of exploring the environment without delivering major changes to the core game structure.
End Game also introduces two new vehicles to use, a new classic take on Capture the Flag and a new dropship with more support options.
The development team at DICE is apparently already working on Battlefield 4, which is expected to arrive on the next generation of consoles and the PC.
Take a look at how the DICE team tested the dirt bike changes for end game: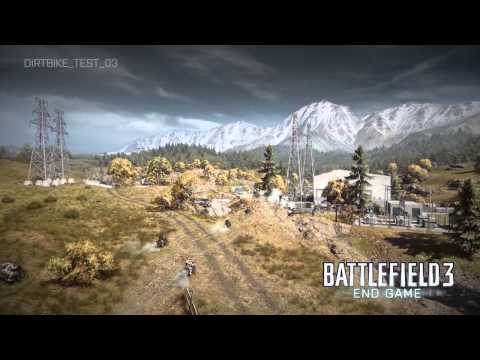 Play Video