Only yesterday, US President Barack Obama granted his presidential pardon to both Cobbler and Gobbler, two four-month-old turkeys born and raised on a farm in Virginia.
PETA might not approve of his decision, yet odds are that the birds were more than overjoyed by the news that neither of them would be slaughtered and turned into roast in order to mark this year's Thanksgiving.
Interestingly enough, this was the first year in which US citizens were given the opportunity to pick their favorite and vote to save its life.
Thus, a Facebook poll asked Americans to decide whether Cobbler or Gobbler should become 2012's National Thanksgiving Turkey.
Nobody can say for sure if its feathers, its name or a special kind of spark in its eyes made Cobbler stand out, yet it seems that most US residents agreed that this was the bird that deserved to be granted the President's pardon.
On the other hand, Gobbler might not have been such a sight for sore eyes, but Obama decided that that was no reason to slay it.
After pardoning both these birds, the US President wished Americans a "Happy Thanksgiving," yet also wished to emphasize the fact that, later that day, both he and his family would be stopping by at a local food bank in order to lend a helping hand to people who find themselves in need, Gossip Cop says.
In case anyone was wondering, the US President's bringing up his plans for the day in public was meant to encourage other people to follow in his footsteps.
As he put it, he just wanted to encourage "every American to do what they can to help families who are in need of a real Thanksgiving this year."
Obama's daughters, Malia and Sasha, were both present at the event and got to witness their father's merciful behavior up close.
Whereas Sasha was ready and willing to pet the winner, Malia chose to remain at a distance.
The video showing Obama pardoning Cobbler is made available to you down below.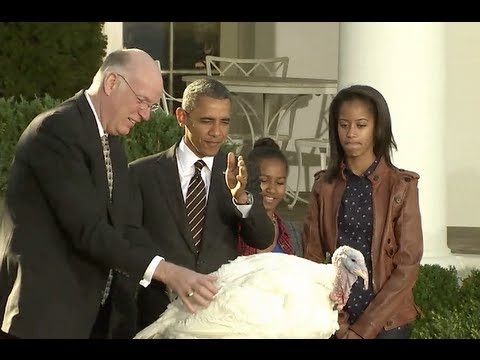 Play Video