Gearbox Software has confirmed the final downloadable content pack for Borderlands 2, in the form of Sir Hammerlock versus the Son of Crawmerax, which will drop in April across all platforms.
Borderlands 2 launched back in September of 2012 and received a huge amount of content, from story-based expansions, to smaller bite-sized Headhunter packs, like the recent Mad Moxxi and the Wedding Day Massacre.
Now, developer Gearbox has confirmed that the fifth and final Headhunter add-on is called Sir Hammerlock Versus the Son of Crawmerax and will appear this April worldwide.
"Join Sir Hammerlock along with Brick, Mordecai, and Lilith on a relaxing vacation on Wam Bam Island as you play the biggest Headhunter add-on in the series. At first, everything appears peaceful as Sir Hammerlock shows off his homemade brew and talks about the latest in Varkid tracking… that is, until tragedy strikes when a monstrously large beast kidnaps the scholarly hunter and pulls him underground. Fortunately, Crazy Earl and Mordecai are on hand to help recover the mustached colleague, provided you do a few favors for them first," the DLC's description reads on the official website.
"Your journey across Wam Bam Island culminates in a battle against a foe that may look familiar to some – Crawmerax Jr., the son of the great crab worm from The Secret Armory of General Knoxx add-on for the original Borderlands. Crawmerax Jr. is seeking vengeance on Lilith, Brick and Mordercai for brutally defeating his father over and over again. You must fight him off without their help so, you may want to call some friends to help you out with this one."
As with previous Headhunter packs, the add-on will bring exclusive loot, such as the head of Crawmerax Jr., as well as beach-themed skins.
Borderlands 2 Sir Hammerlock Versus the Son of Crawmerax will launch for the PC, PS3, and Xbox 360 on April 15 for just $2.99 / £2.39 / €2.99.
Check out a video with the DLC in action below.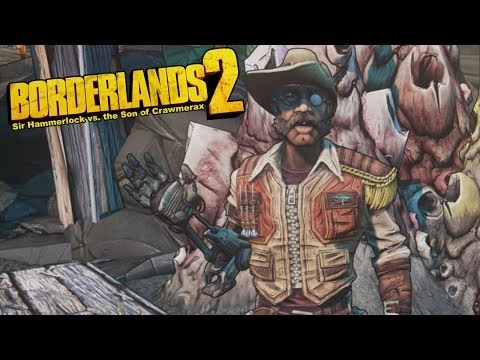 Play Video