Beyonce has officially kicked off her Mrs. Carter World Tour the other night, with a performance in Belgrade, Serbia, at the Kombank Arena. The first photos and videos from the show have emerged online.
While fans are raving about the production and Beyonce's amazing live performance skills, all of which are obvious in the video below, one of her stage outfits is also getting a lot of people talking.
You can see it in the photo above (click to enlarge) and, yes, it's a sequined dress whose upper part includes a faux breast detailing.
It's definitely one of Beyonce's raciest outfits, if it doesn't actually qualify for the top prize and some might deem it a bit too much. To them I say, pish posh, we don't really need to invent reasons to feel outraged.
If you're a fan of Beyonce, you can catch her live throughout June, when her tour reaches the US as well. Next up, she'll perform in Croatia and Slovakia.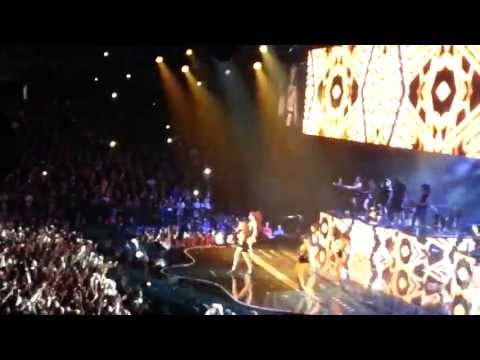 Play Video