Beyonce has officially kicked off her Mrs. Carter World Tour the other night, with a performance in Belgrade, Serbia, at the Kombank Arena. The first photos and videos from the show have emerged online.
While fans are raving about the production and Beyonce's amazing live performance skills, all of which are obvious in the video below, one of her stage outfits is also getting a lot of people talking.
You can see it in the photo above (click to enlarge) and, yes, that's a sequined dress whose upper part includes a faux breast detailing.
If you squint a bit or look at it from a distance, you can almost swear she's not wearing anything, or at best, that she's wearing a completely see-through top.
It's definitely one of the raciest outfits Beyonce ever wore, if it doesn't actually qualify for the top prize. Obviously, people online are talking - and they don't sound very happy, claiming Bey crossed some line in decency by wearing it.
To them I say, pish posh, we don't really need to invent reasons to feel outraged. This is just an outfit, it's not like she's really strutting down the stage with her girls out. And if she were, would that be a horrible thing?
If you're a fan of Beyonce, you can catch her live throughout June, when her tour reaches the US as well. Next up, she'll perform in Croatia and Slovakia.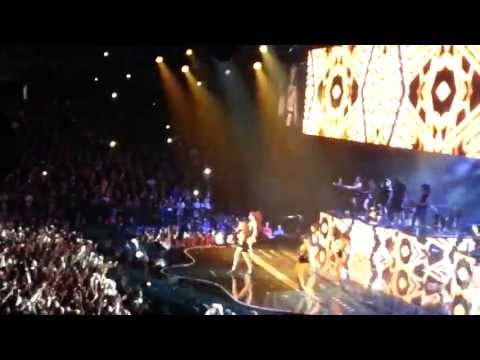 Play Video