As extraordinary as Beyonce's rendition of the "Star Spangled Banner" at the 2013 Presidential Inauguration might have sounded, chances are it wasn't the real deal, it wasn't live: various reports hint that she mimed her way through the anthem thanks to a pre-recorded track.
Check out the video below to see it, in case you missed it the other day.
Though she seemed to be singing live, there are several reports out there, coming straight from Marine Band spokespersons, that indicate that she was simply singing along to a pre-recorded track.
The Marine Band certainly was doing that, the Washington Post reports.
"A Marine Band spokesman confirmed late Tuesday that its musicians just mimed playing their instruments during the National Anthem. But he said he could not say whether Beyonce was lip-syncing or actually singing — and, if she was, whether her mike was on," the Post writes.
"Capt. Eric Flanagan told us that the Presidential Inaugural Committee originally asked the band to perform with the singer, but because 'there was no opportunity for Ms. Knowles-Carter to rehearse,' they decided a live performance was 'ill-advised'," adds the same media outlet.
"Earlier Tuesday, another band rep told reporters that the singer had opted for the recording at the last minute and implied she was, in fact, lip-syncing. But Flanagan told us the band couldn't tell for sure whether Beyonce was singing live," the Post further says.
Despite the ongoing hubbub, even if Beyonce simply mimed singing (or, better yet, sang into her mike but it wasn't on), it's not like this is the first time this happens at an event of this magnitude.
Given the harsh weather conditions and all the measures taken to ensure the event goes on without a glitch, lip-synching to pre-recorded tracks has been done before: even Whitney Houston did it in 1991, when she performed the National Anthem at the Super Bowl, which is considered the greatest rendition ever.
Calls to Beyonce's publicist had not been returned yet at the time of writing.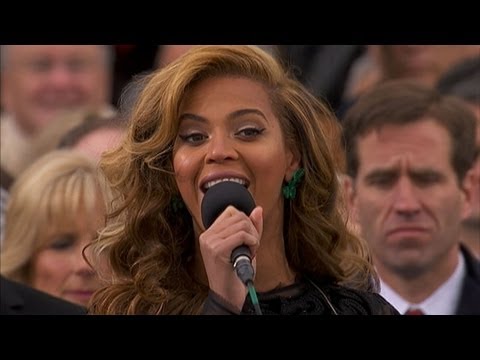 Play Video