An unusual bed created by specialist furniture company MotoArt could propel you directly to cloud nine, as it is made out of the engine of a Boeing 747.
The California-based company is known for using real aircraft parts for their unique pieces of furniture, and this time it made the glorious Jumbo 747 Sleeper using a robust split GE engine, which was modified to serve as embodiment for the bed design.
The bed is a king-size mattress set between the split sides of the nacelle – the circular piece that usually houses the engine.
"The split GE engine nacelle is designed to create the hottest and most luxurious cloud 9 experience on the planet. Padded leather head and footboards, programmable lighting and a custom frame are built to withstand the hardest landings," says the description of the boisterous bed on the company's website.
MotoArt offers a large variety of similar products, including desks made out of wing flaps, benches made of out fuselage, and tables made out of engine nacelles – just like this bed. The aircraft parts are taken from planes used in the Korean War.
The magnificent Jumbo 747 Sleeper can be yours if you have $20,000 (€14,544) to spare.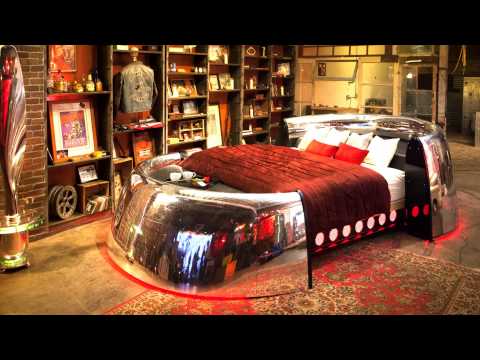 Play Video