Battlefield 3 on the PlayStation 3 will get the long-awaited Aftermath DLC today, November 27, and in order to celebrate the release of the expansion, DICE has just posted the launch trailer that shows off the different things included in the add-on.
Battlefield 3 came out more than a year ago and has been supported by DICE with a variety of new content and expansions, like Back to Karkand, Close Quarters, or Armored Kill.
Now, the fourth add-on for the first-person shooter – Aftermath – will make its debut today, November 27, on the PlayStation 3 platform.
"Rise from the ashes and fight for survival," the add-on's description reads, via the BF3 blog.
"In Battlefield 3: Aftermath, players fight for supremacy amongst shattered streets and buildings across four earthquake ravaged maps. This add-on has four maps and features the new crossbow, vehicles, and the new Scavenger game mode where players armed only with a pistol must search the environment for more powerful weapons."
DICE has just posted the actual launch schedule based on the different regions of PS3 users, so check it out below.
In Europe: Nov 27 4-8 PM GMT
In the US: Nov 27 4-8 PM PST
In Japan/Asia: Nov 28 10 AM-2 PM JST
What's more, a special launch trailer has also been made available, which shows off the new maps, the crossbow, the vehicles, and the Scavenger multiplayer mode that are all included in Aftermath.
The add-on will be free for Battlefield Premium owners while those without such a thing need to pay $14.99/€14.99.
It will be released for PC and Xbox 360 owners of Battlefield 3 next month, depending on whether or not they purchased the Premium bundle, which offers early access to all of the expansions for the shooter.
Until then, check out the launch trailer below.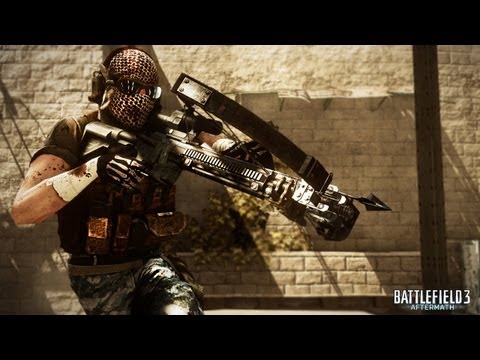 Play Video