Australia's Prime Minister Julia Gillard has released the government's National Security Strategy, a document which, according to the official, "highlights the dramatic economic and strategic shift towards the Asia-Pacific region and provides a blueprint for national security over the next decade".
The strategy focuses on security risks such as espionage and foreign interference, instability in developing and fragile states, proliferation of weapons of mass destruction, serious and organized crime, terrorism and extremism, and state-based conflicts that impact the country's industries.
It also covers malicious cyber operations, which have become highly problematic for many countries over the past period.
"The number of cyber incidents has increased by 42 per cent over the past two years," Gillard said in a statement to the press.
"The strategy emphasises the necessity of partnerships – with the Australian community, business and international governments – to better protect the country against potentially devastating cyber-attacks and to meet other national security challenges."
In a separate speech, held at The Australian National University, the prime minister detailed the role of the National Broadband Network, highlighting the fact that with its rollout, the government was deploying a more sophisticated focus on cyber security.
She reminded everyone that the government had already allocated substantial funding to strengthen Australia's cyber capabilities.
Gillard also announced the development of the new Australian Cyber Security Center, scheduled to be launched by the end of this year.
"This will be a world-class facility combining existing cyber security capabilities across the Attorney-General's Department, Defence, ASIO, the Australian Federal Police and the Australian Crime Commission in a single location," Gillard said.
"It will provide Australia with an expanded and more agile response capability to deal with all cyber issues — be they related to government or industry, crime or security. Importantly it will also create a hub for greater collaboration with the private sector, State and Territory governments and international partners to combat the full breadth of cyber threats."
Here is Prime Minister Julia Gillard's speech: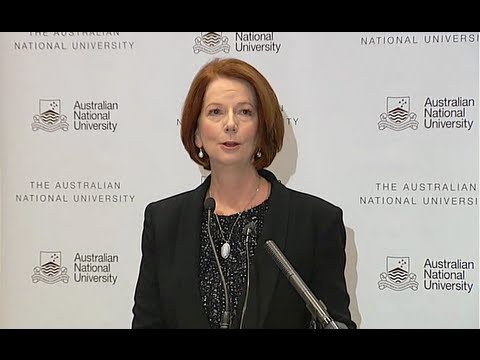 Play Video