After news broke that Tunisian officials might reinstate the old web surveillance and censorship mechanisms in the country, Anonymous hacktivists issued a statement to warn the government.
"Censorship is now active again. Ammar 404 is facing the Tunisian web wearing a bear even more back-stabbing and sneaky than before. We will not give up against these hypocrites, we are reacting against them," the hackers noted in a video statement.
"We have spent years fighting corruption. We shall never let our martyrs' blood go in vain. The fact that the Tunisian government is trying to get away with stealing the people's privacy has shocked us and has driven us to take more precautions. This censorship signifies the comeback of years of oppression and tyranny," they added.
The hacktivists haven't announced any immediate plans yet.
Before 2011, Tunisia was known as an enemy of the Internet, many of the sites accessed by users showing a "404 Not Found" error message. This is actually the error message that led to the censorship being named Ammar 404.
After President Zine El Abidine Ben Ali was removed from power, several popular websites, such as Facebook and Twitter, were unblocked. However, there were still some restrictions.
Back in September, TechPresident reported that Tunisia's communications minister announced the end of Internet censorship.
However, in November, Tunisia Live informed that many cyber activists started raising concerns that the launch of a new telecommunications investigative agency would mean the return of censorship.
Now, Anonymous hackers say they're determined to prevent the government from taking away their rights.
"We do not tolerate these acts! Under Natural Law, the Tunisian people have the right to knowledge, the right to think and express their opinions, the right to be free from tyranny," they noted.
Check out the video released by Anonymous Tunisia: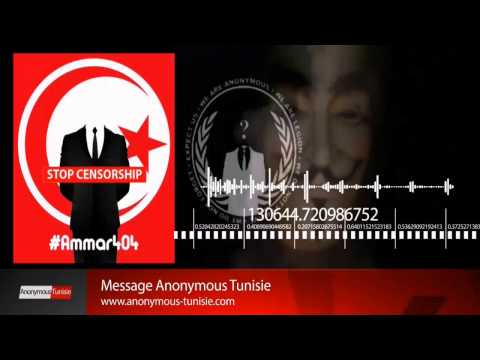 Play Video