The folks at Rovio, owners of the critically acclaimed Angry Birds franchise, have just released their hotly-anticipated Angry Birds Star Wars for Android.
Confirmed for November 8, the game has been launched on Google Play store right on time. In addition, Rovio has just released the iOS version as well, for both iPhone and iPad devices.
We're still expecting the company to launch the Windows Phone and PC versions by the end of the day, so Angry Birds fans that prefer these platforms will have to wait a bit longer.
Developed in partnership with Lucasfilm, Angry Birds Star Wars tells the story of the Empire's evil Pigtroopers and the Rebel Birds.
Led by the terrifying Darth Vader, Dark Lord of the Pigs, the evil Imperial Pigs wreak havoc in their path, so it's you who must restore freedom to the galaxy.
Players will be able to use the Force, wield lightsabers and blasters in this epic adventure that will take them from the deserts of Tatooine to the dark depths of the Pig Star, Darth Vader's ultimate weapon.
Rovio promises players more than 80 levels in iconic locations such as Tatooine and the Pig Star. You can now upgrade your birds' skills as you advance in the game. Keep playing and level up to improve their skills and blast away Pigtroopers much easier.
The game also includes some secrets and hidden goodies, such as the R2-D2 and C-3PO bonus levels, which can be unlocked. Players will also be able to unlock 40 Dagobah Challenge levels with Jedi Master Yoda via in-app purchase.
As expected, Rovio also confirmed Angry Birds Star Wars for Android will be updated regularly and all updates will be delivered free of charge.
Angry Birds Star Wars 1.0 is available as a free download via Google Play store and it should be fully compatible with all devices running Android 2.2 and up. Check it out here.
UPDATE: Angry Birds Star Wars for Windows Phone 8 is available for download here.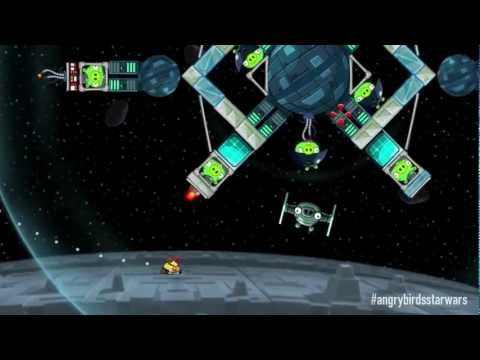 Play Video