Rovio has just unleashed its previously teased Angry Birds Go! game on Google Play, App Store and BlackBerry World. The new title in the Angry Birds franchise is available as a free download, but it has been heavily stuffed with micro transactions.
Angry Birds Go! has been confirmed to feature the first 3D world in the Angry Birds universe, so players will now be able to see the birds and pigs from every angle.
Android, iOS and BlackBerry fans of the franchise will be able to race as Red, Chuck, Terence, Stella, King Pig, Moustache Pic and many other famous characters in the game.
The game includes several modes meant to offer more variety, such as Race, Time Boom, Fruit Splat, Champion Chase and Mega Match.
TELEPODS support is included as well, so players can teleport their favorite character into the race by simply placing their Angry Birds Go! figurine on the device's camera.
"With one million Angry Birds Star Wars TELEPODS figures sold within a month of becoming available, the TELEPODS line is one of the hottest toys for the holidays and Hasbro continues to deliver a seamless physical to digital play experience with the new Angry Birds Go! TELEPODS line.
"Rovio has developed a fantastic new property with Angry Birds Go! and we look forward to fans enjoying the new TELEPODS line as well as the Angry Birds Go! JENGA games," said John Frascotti, chief marketing officer, Hasbro, Inc.
You can now download Angry Birds Go! for Android for free via Softpedia. Keep in mind that the game should be fully compatible with all devices running Android 2.2.3 and up.
Apple fans can also download Angry Birds Go! for iOS for free from Softpedia. It has been confirmed to support iPhone 4, iPhone 4S, iPhone 5, iPhone 5c, iPhone 5s, iPad, and iPod touch powered by iOS 6.0 or later.
Last but not least, you can download Angry Birds Go! for BlackBerry 10 for free via Softpedia. Obviously, it only supports devices powered by BlackBerry 10 such as Z10, Z30 and P'9982, so Q5 and Q10 owners have been left out.
[UPDATE]: Because the Windows Phone version of the game popped up earlier than other platforms we've covered the news in a separate article. But, in order to make it easier for our readers to get everything in the same article here is the link to the Windows Phone version.
Download Angry Birds Go! for Windows Phone.
The game has been confirmed to be compatible with the following smartphones: Lumia 1520, Lumia 1020, Lumia 928, Lumia 925, Lumia 920 and Lumia 820. Support for other Lumia devices running Windows Phone 8 will be added soon.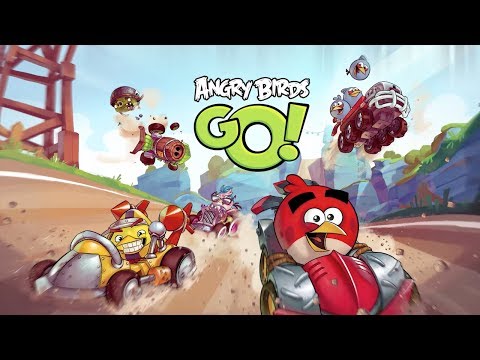 Play Video