Laptops don't normally run anything besides Windows or Linux, but that didn't stop the Android x86 project from living up to its namesake.
PC makers may not be all that interested in releasing laptops loaded with the Android operating system, but some people are still very interested in this.
In fact, the Android x86 project has taken it upon itself to get Android 4.0 to operate on netbooks.
So far, they have succeeded in installing the Ice Cream Sandwich software on the ASUS Eee PC X101 entry-level mobile personal computer.
Alas, it probably won't serve as more than a prompt for companies to realize that there is genuine interest in such a thing.
In fact, though the OS does work on netbook hardware, it is not optimized and actually runs rather slowly.
On the bright side, the interface has been adjusted, so that owners can use the touchpad and mouse to navigate through the home screen.
It doesn't actually compare to the touch-based experience that the OS was envisioned for, but at least it lets product owners manage without that sort of panels.
Also, at the very least, there are more apps available than on any machine running the MeeGo OS.
Moving on, volume buttons are present, while the "escape" key plays the role of the Android "Back" button. More importantly, even Wi-Fi works properly, as opposed to other Android mods out there.
At this point, the Android x86 project is bound to call upon the software features of the ASUS Eee Pad Transformer Prime tablet.
Since ASUS put quite a bit of work in that device and its software, the team may be able to adapt some things for this netbook Android build. It won't change the fact that the port isn't endorsed by Google or ASUS, but that hasn't stopped the modders yet.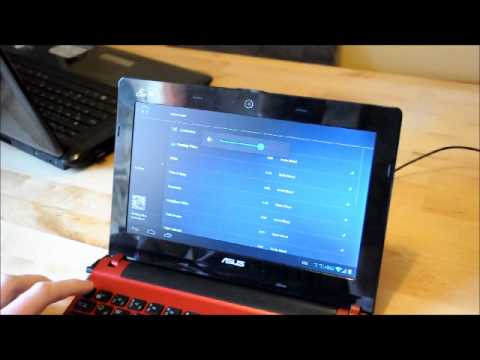 Play Video