Having released, or at least announced, its new series of mobile accelerated processing units, Advanced Micro Devices now has to persuade companies to make products with them, and consumers to buy them.
A few decades ago, this would have been problematic, but today it is easier to spread the word all over the world.
Instead of having to rely on magazines and written reviews, it is enough to publish a press release on the Internet, and maybe a video or two.
As it happens, a demo video is precisely what AMD released not long ago, one that shows multimedia-oriented convertible notebook-tablet devices and business devices.
The business-oriented tablet reference design uses a quad-core Temash APU with up to four jaguar cores and Radeon HD 7000 graphics. It has Turbo Dock support, which means it can be connected to a keyboard that also includes extra ports and doubles as a cooler.
Go here to read about exactly how AMD Turbo Dock adjusts performance when connecting or removing the dock.
The other reference design was for a convertible notebook-tablet based on the AMD A6 Kabini chip, with four Jaguar cores and HD 7000, but lower power requirements.
It can run games, like Torchlight II, in 1920 x 1080 pixels resolution (at a frame rate of 25 fps), in DirectX 11. Previously, only desktops and full-feature notebooks could handle such workloads, but the new APUs can manage it.
We do not know how well these types of products will do on the market. Since they are only reference designs, AMD will have to negotiate contracts with other companies and have them build their own items, which they will sell under their respective brands.
Knowing how difficult life has been for Windows 8 products in general, the Sunnyvale, California-based company has its work cut out for it.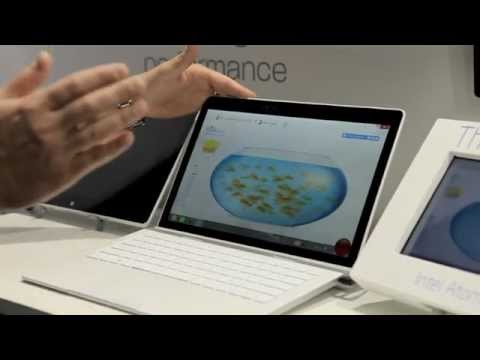 Play Video