Overclocking records don't really mean anything to most people, but they are still a good badge of merit for Intel and Advanced Micro Devices, as well as the companies that made the motherboards and memory used in the tests.
Some may be tempted to say that the overclocking feat achieved by renowned clock tweaker Nick Shih is not a record at all.
After all, the same accelerated processing unit (APU), AMD A0 5800K, reached 8.47 GHz last month, quite a bit above the 7.930 GHz of this latest test.
Nick Shih himself says that this was just warm-up for him. And indeed, those were his exact words.
"I absolutely love having fun with some of the best gizmos around, such as the new socket FM2 APUs and ASRock FM2A85X Extreme6. You can always expect amazing results when you are dealing with these reliable hardware. For me, 7.93 GHz is merely a warm up. 8 GHz ready or not, here I come!" he excitedly said.
Nevertheless, the clock speed is a record because Shih did not disable any cores. Previously, only two of the four cores were active. The CPU-Z validation can be found here.
This time, all four were used, although there was no hyper-threading or equivalent technology in use.
ASRock's FM2A85X Extreme6 motherboard acted as the foundation of the computer, its Gold Caps, Digi Power and 8+2 Power Phase keeping up with the voltages.
Nick Shih is now at the top of the HWBOT's A10-5800K CPU frequency ranking list, and he intends to stay there.
As he said above, he plans to break the 8 GHz barrier with all four cores enabled, sometime soon. Now we just have to wait and see whether he will do it independently or he will wait for the next big overclocking competition to make his move.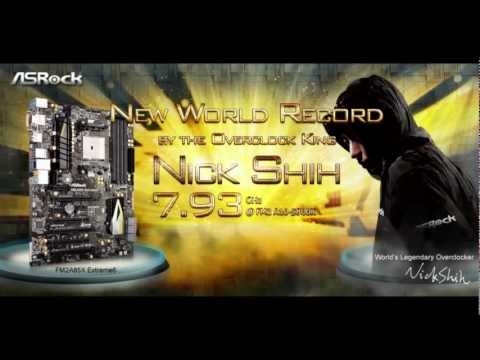 Play Video