To this day, Beef Products Inc. insists that that which is now known generally as "pink slime" isn't what it's claimed to be, but actual beef. It's so determined to prove this, that it's even taking legal action against ABC, it has emerged.
TMZ reports that the network is being hit with a major lawsuit by the meat processing company for running an investigative story on how ground beef isn't meat, but a paste obtained from trimmings and left-overs treated with ammonia.
Below is a segment of the story in question.
Because of it, Beef Products Inc. claims, it had to shut down factories (3 out of 4, no less) because demand in its products decreased. Consequently, over 650 jobs were lost.
The company is asking for $1.2 billion (€920.5 million) in damages, hoping that, with the money, it will also get its name cleared in public.
"A major US beef processing company is suing ABC News for $1.2 billion – claiming the network's coverage of a product called 'pink slime' has duped consumers into believing it's unhealthy and unsafe," TMZ reports.
"The company behind the lawsuit is Beef Products Inc. – which claims ABC News made somewhere around 200 'false and misleading and defamatory' statements about the product... which BPI refers to as lean, finely textured beef," adds the same media outlet.
These statements deceived customers into believing the finely textured beef was worse than dog or catfood and, what's worse, they had zero merit.
"[The ABC News reports have] caused consumers to believe that our lean beef is not beef at all – that it's an unhealthy pink slime, unsafe for public consumption, and that somehow it got hidden in the meat," an attorney for BPI says.
ABC News is not backing down without a fight, though.
"The lawsuit is without merit. We will contest it vigorously," a network representative is quoted as saying.
ABC News isn't the first one to expose ground beef as being made over 70% of "pink slime" either. Celebrity chef Jamie Oliver also did an entire show on it, showing mothers what they were giving their kids for lunch whenever they packed a hamburger.
McDonald's and various other junk food chains dropped "pink slime" afterwards.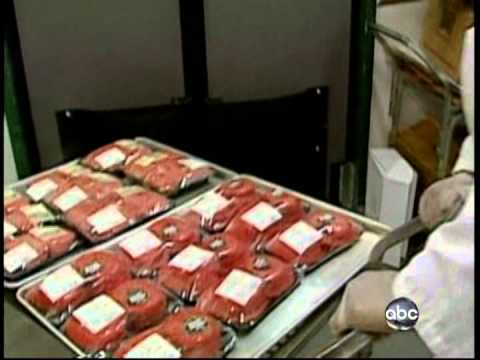 Play Video