People might not think it, but it is actually already possible to write and draw things in the air. It might sound like Sci Fi wishful thinking, but 3D printing has provided the solution at long last.
WobbleWorks LLC has posted a project on the Kickstarter hosting website, one that bears the name of 3Doodler.
Long story short, the 3Doodler is a pen that draws things in 3D in real time. It makes doodles in other words, hence the name.
More specifically, it can draw 3D shapes and models, jewelry, pendants, hanging ornaments, decorative art, fridge magnets, mini Eiffel towers, personalized markings for gadget cases, etc.
Basically, if it can be drawn, it can be made. The art will depend on how steady one's hands are, but so do many other things and tasks.
Fortunately, the company has come up with a solution to the dilemma of how to create larger and more complex shapes: stencils.
Stencils are sheets of paper with shapes and sections drawn on it. It shows the pen how to "doodle" so to speak.
The Eiffel Tower stencil, for instance, has all four parts of the model. Drawing with the pen precisely on top of the lines should have all the sections ready for assembly in minutes.
That said, 3Doodler writes and draws in thin streams of plastic. One would think there would be a high price to pay for something like it, but that is not the case.
The pen has a price of only $50 / 37.37 Euro and needs just $30,000 for the project to get off the ground (22,400 Euro). Quite a big difference from the thousands of dollars / Euro that normal 3D printers need.
First deliveries are expected this fall (2013), assuming the Kickstarter project gets the funding it needs.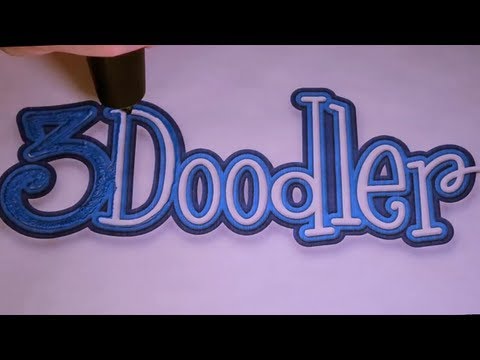 Play Video