A massive crash involving multiple vehicles has left 28 people injured at Daytona International Speedway on Saturday night.
Seven people incurred serious wounds, and were hospitalized overnight, Orlando Sentinel reports. As we mentioned yesterday, the incident occurred during the Nationwide Series race, with Kyle Larson's race car breaking through the fence protecting the grandstands.
While debris went flying up, injuring fans in the stands, Larson has not been injured. His car smashed into pieces during the multiple car pile-up.
A video of the crash has been posted below this article, along with a clip revealing what the crash looked like from the stands.
NASCAR officials have stated that they are reviewing safety measures at the speedway, rebuilding the 22-foot (6.7-m) fence Larson's race car broke through.
"If there are things that we can incorporate into the future, whether it's the current property now or any other redevelopment, we will," Chitwood says.
Two people arrived at Daytona Beach hospital in critical condition, one of whom was a child. They have been treated and are currently recovering, USA Today informs. 7 other people came in with minor wounds, and 5 fans were treated for heat exhaustion and related issues.
Six others have been transported to Halifax Urgent Care in Port Orange, while another was treated at Florida Memorial. They have all suffered minor, non-life-threatening injuries.
"We don't anticipate moving any fans. [...] We had our safety protocols in place. Our security maintained a buffer that separates the fans from the fencing area," Chitwood explains.
"As with any of these incidents, we'll conduct a thorough review . We'll work closely with the tracks as we do for all our events. We'll learn what we can and see what we can apply in the future," adds racing operations vice president Steve O'Donnell.
Play Video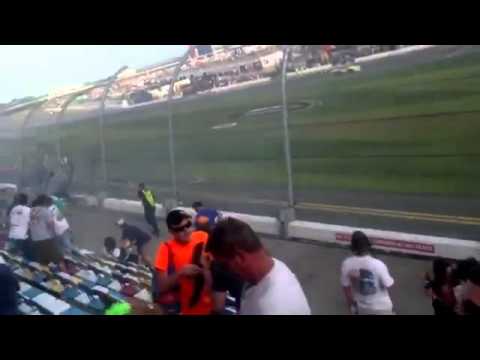 Play Video