When word first got out that there was a "21 Jump Street" movie in the making, fans immediately assumed – and with good reason, who could blame them – that a remake would be coming out. Instead, directors Phil Lord and Chris Miller have delivered the best comedy of the year, that has nothing to do with the original TV series.
The film opens with a scene in which we see a Slim Shady-looking, braces-wearing, incredibly awkward Schmidt (Jonah Hill) trying and failing to invite the girl of his dreams to the prom.
Of course, we all were a bit awkward in high school, but Schmidt practically defines the term all over again – as the age-old joke goes, look up "awkward" in the dictionary and you will find his picture there.
Jenko (Channing Tatum) is the exact opposite of that: the school jock, he's athletic, handsome, confident and, as expected, not too bright.
Years later, the two meet again as students at the Police Academy. Because one has the brains and the other is the muscle, and they're both outsiders of some sorts, they decide to join forces and "be friends."
They make, truth be told, one of the most charismatic and funniest pairs to grace the big screen in the past few years. There is no denying their chemistry.
When a drug bust goes bad – because they're practically idiots or, to put it more delicately, boys playing grownups, but with guns – they're demoted to a less dangerous operation.
They look young, so they're assigned to an older project, 21 Jump Street: they're to go back to high school undercover, to try and suppress a drug ring that's been selling a new, synthetic, and very dangerous drug.
They immediately find out that high school isn't what it used to be: nerds are now popular, jocks not so much. Physical strength is nothing to brains, while good looks come second to the ability to formulate original, well informed ideas.
By another twist of the plot, the two are forced to hang out with the other group than the one they belonged to in their hey-day, which allows Schmidt to assume that he could relive high school all over again – only the right way, this time.
Jenko, on the other hand, is trying too hard to understand how it could be that the world has changed so much. He's also jealous of how popular his partner / make-believe brother suddenly is, and hates it when he, Schmidt, seems to put him on second place.
Truth be told, this sounds pretty much like a clichéd story, but it's not like "21 Jump Street" is trying to fight cliché in any way.
If anything, it's as if the film realizes that the plot is absurd and, instead of attempting to prove the contrary and, this way, make a fool of itself, it embraces the ridiculousness of it all – and just runs with it.
And, boy, does it run!
"21 Jump Street" is so packed with little nudges and nods for the knowing viewer that it's a real pleasure to watch, a delight by all means. This also proves just how refreshing it can be to have a silly movie play out just like that and not take itself too seriously.
For those who don't get the many intertextual references sprinkled in the dialog and plot, there's always the very special kind of humor of the film to be enjoyed.
A mix of foul language, scatological jokes, physical humor, with a dash of irony and a healthy dose of self-deprecation, "21 Jump Street" breathes a life all of its own that is, at the same time, refreshing, entertaining and just a tiny bit offensive.
All in all, it makes for the funniest, best comedy to come out this year, definitely not to be missed if you like a good laugh – and who doesn't.
"21 Jump Street" runs for 109 minutes, and is rated R for crude content, pervasive language, drug material, teen drinking and some violence.
It opened in the UK, US and other territories on March 16, will arrive in Norway and Sweden on April 20, and conclude its run in Portugal on June 28, 2012.
---
The Good
Channing Tatum and Jonah Hill have such amazing chemistry that, at times, it's even hard to follow the narrative because they effectively steal the show completely. "21 Jump Street" is indecent, irreverent, shameless and, above all, brilliant: the best this year.
The Bad
"21 Jump Street" never slows down, not even for a second: if it's not a gag, it's a chase scene, if it's not that, it's a fight or an explosion. At one point, this can become a bit taxing on the viewer.
The Truth
"21 Jump Street" embraces clichés and turns them into something new, with the help of two actors (Tatum and Hill) who have proved they can do comedy better than many of their peers. It might not be suitable for more delicate ears (and eyes), but it's not just funny or entertaining: it's a riot.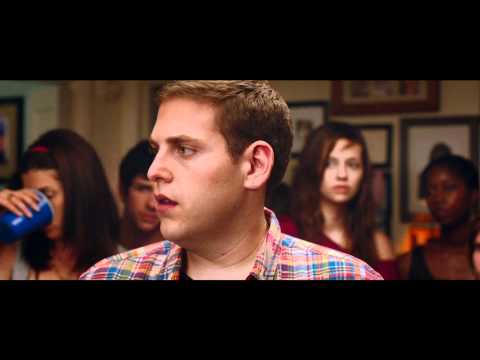 Play Video